The JV game scheduled for tonight at 7:00 pm against Camden has been cancelled. 7th grade will not be playing Camden tonight and instead will be playing a Red/White game followed by a 7th and 8th grade game against Fouke (3 games total). The 7th grade game will start at 5:00 pm Tickets will be sold at the gate. MASK REQUIRED! #teamtasd #potentialrealized #saferazorbacks

NHJH GIRLS BASKETBALL TRYOUTS - October 19 - 23 - 8th grade grade girls October 20 & 22 from 3:15 - 5:30. 7th grade girls October 19 & 23 from 3:15 - 5:30. During their regular athletic period. Girls will need a mask and water bottle. For more information contact: Coach Sander -
Jennie.sander@tasd7.net
or Coach Watson -
Venture.watson@tasd7.net

AHS GIRLS BASKETBALL TRYOUTS - 10th, 11th and 12th grade girls will tryout on Friday, October 16th from 3:30 - 4:30 pm in the Razorback Gym. 9th grade girls tryouts are Wednesday, October 21 from 3:30 - 4:30 pm in the Razorback Gym. Wear your own athletic clothes, shoes and mask. #teamtasd #potentialrealized #SafeRazorbacks

The 9th grade Volleyball game scheduled for tomorrow October 13th in Lakeside has been cancelled. The 8th grade (A- team) will still play one game that will start at 4:30pm. #teamtasd #potentialreaized #SafeRazorbacks

The JV football game scheduled for tonight in DeQueen at 7:00pm has been cancelled. #teamtasd #potentialrealized #SafeRazorbacks

Tickets for this Friday night's football game (10/9) in Lakeside will be pre-sold only. NO TICKETS WILL BE AVAILABLE AT THE GATE! Tickets will go on sale Thursday (12:00pm-4:30pm) and Friday (9:00am-1:00pm) at the Razorback Stadium home ticket booth. Tickets are $5.00. They are only allowing 200 tickets to be sold on the visitor's side. #teamtasd #potentialrealized #saferazorbacks

The JV football game scheduled for tonight at 7:00 pm in Camden has been cancelled. 7th Grade is still playing. #teamtasd #potentialrealized #saferazorbacks

Get your football tickets now. They are on sale at the Razorback Stadium till 1:00 PM. NO TICKETS WILL BE SOLD AT THE GAME. MASK REQUIRED #teamtasd #potentialrealized #SafeRazorbacks

AHS Senior Night - October 2nd. All Fall Sports: Band, Cheer, Cross Country, Football, Golf, Razorback TV, Redline, Student Trainers and Tennis. Escorts are limited to parents or guardians (4 persons max). Only parent/guardian names will be announced with the senior. Arrive at the check in table no later than 6:15.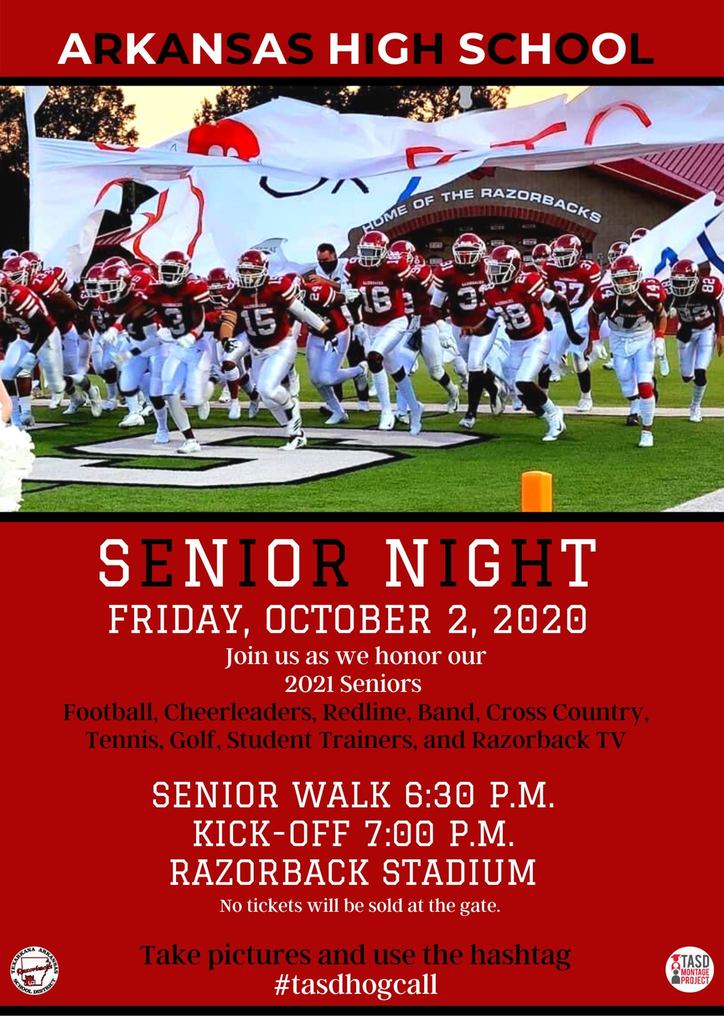 The JV football game scheduled for tonight at 7:00pm against DeQueen has been cancelled. #teamtasd #potentialrealized #SafeRazorbacks

A Varsity Football game has been added for this Friday, September 25th. AHS vs. Fort Smith Southside @ Razorback Stadium, Kick-off 7:00. General admission tickets ONLY will be on sale starting Thursday, September 24th at the home ticket booth at Razorback stadium from 8am-2pm and Friday, September 25th from 8am-2pm. For this game ONLY, tickets will be sold at the gate. General admission $6.00. For SEASON TICKET HOLDERS- There are 2 options available to enter the game: 1. Bring the 1st ticket from season ticket packet (Paris game- 8/28) 2. Bring the 3rd ticket from season ticket packet (Camden game- 10/2)- This is just to show that you are a season ticket holder and that you have reserved seating. You must keep ticket until next week's game to re-enter for that game. Mask Required #teamtasd #potentialrealized #SafeRazorbacks


The AHS Varsity football game scheduled for Friday, Sept. 25th at Magnolia High School has been cancelled. The 8th/9th grade football games scheduled for this Thursday, September 24th, against Magnolia have been cancelled. #teamtasd #potentialrealized #SafeRazorbacks

The AHS JV game scheduled for tonight against Magnolia at Razorback stadium has been cancelled. There is not a rescheduled date for this game. The 7th grade Red/White game scheduled for 5:30pm is still being played. Tickets will be sold at the gate. $4.00 Adults, $3.00 Students Mask are required. #teamtasd #potentailrealized #SafeRazorbacks

2020 ADVANCED PLACEMENT (AP) SCHOLARS – Arkansas High School is pleased to announce the students that received Advanced Placement Honors from the College Board. #teamtasd #potentialrealized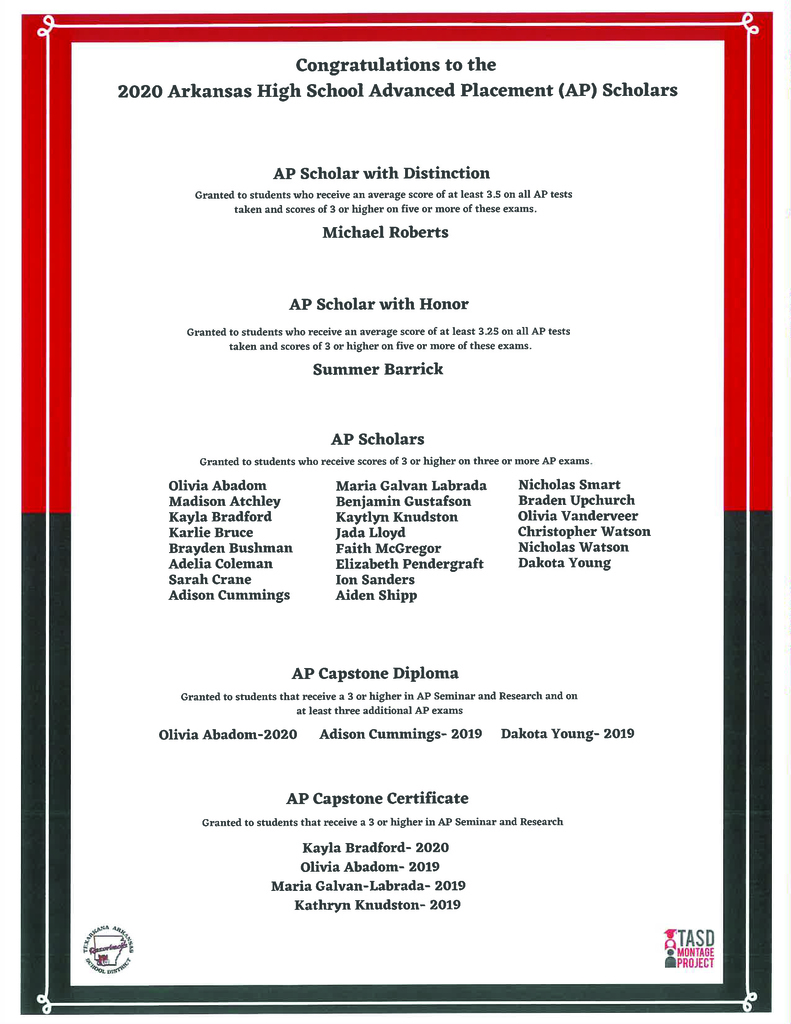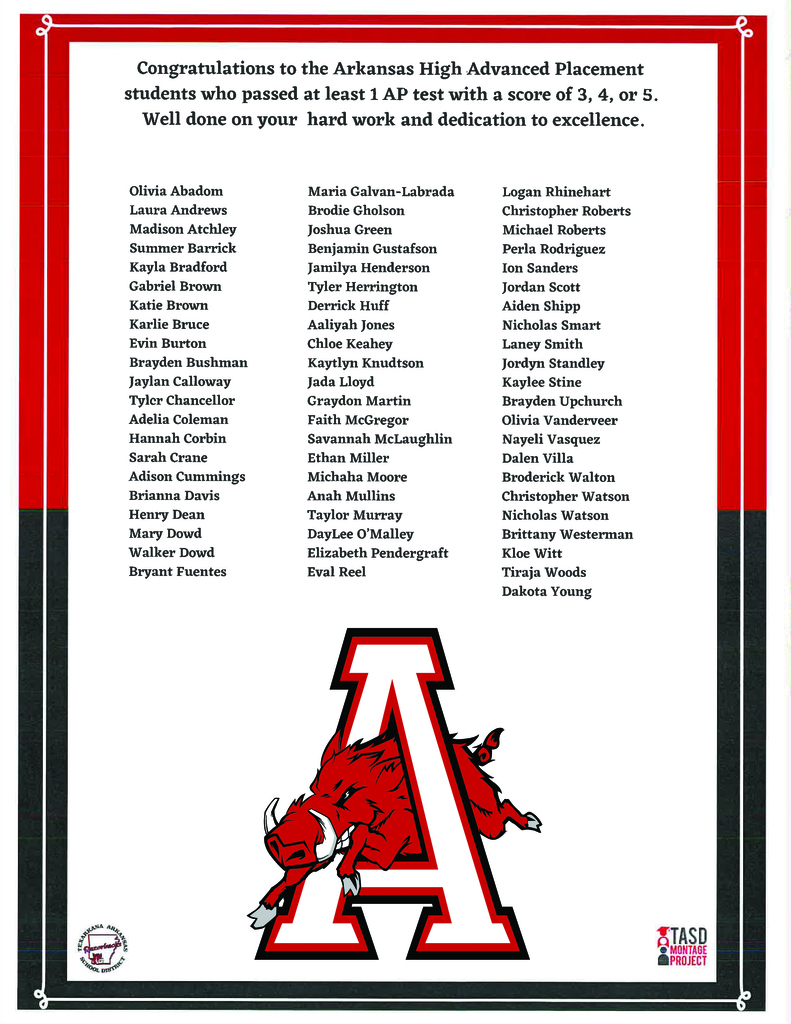 TASD FOOTBALL GAMES - Face coverings are required for all person present, except for children under the age of 10 years old. Due to increased production of respiratory droplets during yelling and cheering. Face coverings should remain in place even when attendees are seated and maintaining required physical distancing. You can find more information at:
https://www.aractivities.org/covid19

Meals for Virtual and Hybrid Students - Meals are now available to order online for Virtual and Hybrid students. You must place your order using the Send Money to School link:
http://www.sendmoneytoschool.com/
located on the district website –
www.tasd7.net
under the Parent/Child nutrition tab. Virtual students must select a full week of meals. Hybrid students should only order for the days they have off-campus learning. Meals are available for anyone under the age of 18 years old – this includes children who do not attend the Texarkana Arkansas School District. However, those orders must be called in to one of the school meal pick-up sites You may place your order Monday-Thursday for the next week. Pick-up is Monday morning from 8 a.m. to 10 a.m. at one of the pick-up sites. The pick-up sites are: • North Heights Junior High - 870-773-1091 2118 East 35th Street • Union Elementary - 870-772-7341 1701 Line Ferry Road Please note if there is a holiday, the date and time will change.

Football tickets for the Pine Bluff Dollarway game @ Pine Bluff will be sold at the gate. Tickets are $5.00 each. #teamtasd #potentialrealized #SafeRazorbacks

The AHS Golf match scheduled for 1:00 pm today at New Haven golf course has been cancelled and will be rescheduled for a later date. #teamtasd #potentialrealized #SafeRazorbacks

The AHS Golf match scheduled for today against DeQueen at Little River Country Club at 3:30 pm, has been cancelled due to inclement weather. The match will not be rescheduled. #teamtasd #potentialrealized #SafeRazorbacks

The AHS Tennis match scheduled for today at 3:30 against Lake Hamilton at AHS has been rescheduled due to inclement weather. The rescheduled date will be Monday, September 14th (same time/location). #teamtasd #potentialrealized #SafeRazorbacks